Tips on Choosing Flattering Clothes for Every Shape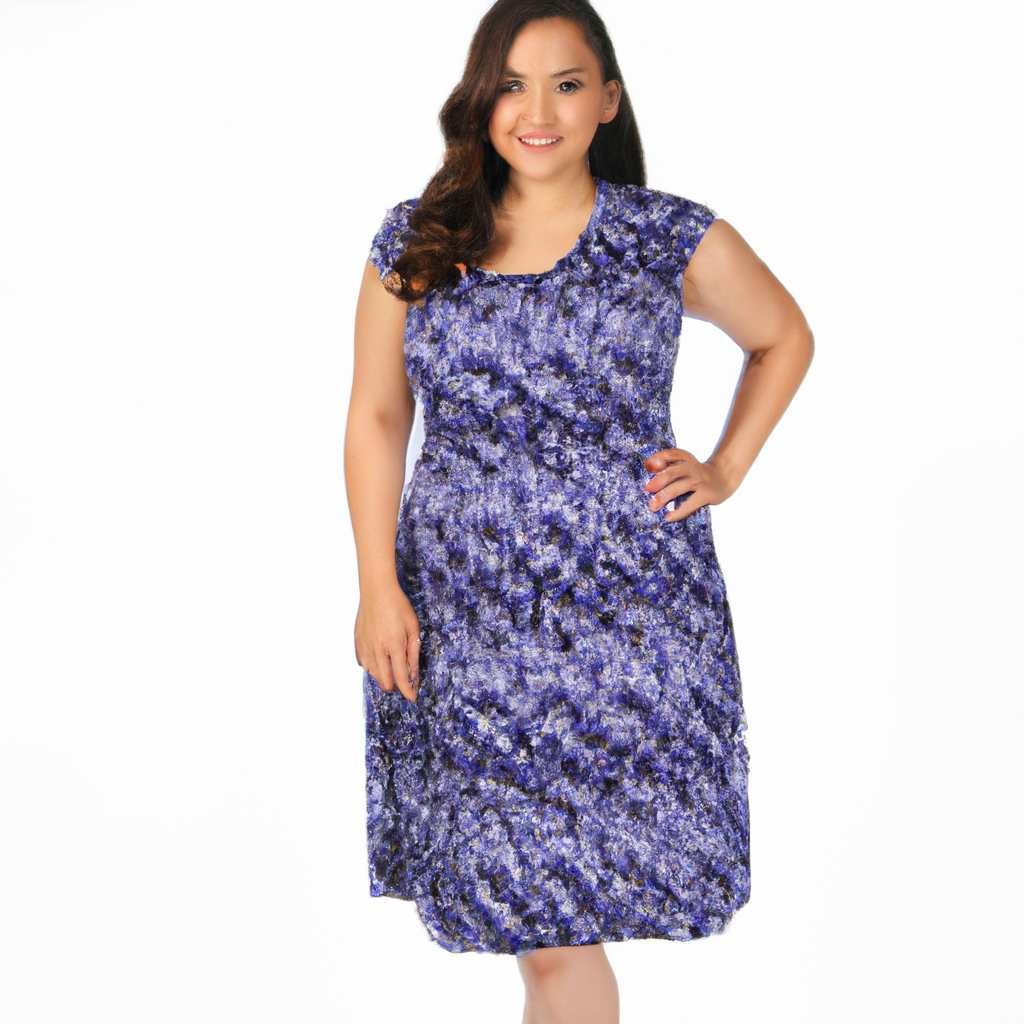 Choosing the right clothes to complement your body shape is essential for feeling confident in your attire. Here are tips for each body shape:
Hourglass: Accentuate the waist & highlight curves. Dresses, fitted tops & high-waisted skirts are great options.
Apple: Draw attention away from midsection. Empire waist tops, A-line dresses & flowy tops are perfect.
Pear: Enhance upper body & balance lower body. Wrap tops, off-the-shoulder tops & bootcut pants are trendy.
Rectangle: Define the waist & create curves. Belted dresses, ruffled tops & crop tops with high-waisted pants are fashion-forward.
The key is to focus on your best features & feel comfortable & confident.
Understanding Your Body Shape
Before you start shopping for clothes, it's essential to figure out your body shape. Every woman is different. In this section, we'll discuss how to recognize and comprehend your body shape. Plus, how to dress it to make you look fabulous!
Determining Your Body Shape
Identify your body shape! It's the initial step to dress yourself in a way that boosts your self-confidence. There are five body types: Apple, pear, hourglass, rectangle, and inverted triangle.
Look in a full-length mirror. Measure your shoulders, bust, waist, hips, and thighs. Compare to typical body shape measurements.
Apple: Big bust, middle fullness, slim legs.
Pear: Skinny shoulders, small bust, curvy hips and thighs.
Hourglass: Equal bust and hips, defined waist.
Rectangle: Balanced shoulders, waist, and hips, minimal curves.
Inverted Triangle: Broad shoulders, narrow hips and thighs.
Determine your body shape. Then you can choose clothes that highlight your best features and create an attractive silhouette.
Identifying Your Body Proportions
Measuring your body proportions is a must-do for understanding your body shape and selecting clothes that suit you perfectly. Here's how:
Use a flexible tape measure to measure your bust, waist, and hips.
Wrap it around the fullest part of your chest for the bust measurement.
Measure your natural waistline, which is usually the narrowest part of your torso, for the waist measurement.
To measure your hips, measure at the widest point around your hip bones.
Compare the measurements to determine your body proportion.
Determine your body shape and pick clothes that show off your best features.
Pro tip: Measure yourself regularly as your body proportions can change over time.
Embracing Your Body Shape
Empower yourself by accepting your body shape. It's a great way to build positive body image and self-confidence. Appreciate your body type and find clothes that flatter your best features. Here's how:
Hourglass: Showcase your waistline with fit-and-flare dresses, high-waisted pants, and wrap tops.
Pear: Balance your proportions with A-line skirts, wide-leg pants, and tops that draw attention to your upper body.
Apple: Look for clothes that create the illusion of a defined waistline, such as empire-waist dresses, peplum tops, and flowy tunics.
Rectangle: Create curves with fitted jackets, cropped tops, and flared skirts.
Inverted Triangle: Add volume to your lower body with wide-leg pants, A-line skirts, and full dresses. Minimize your upper body with V-neck tops and scoop-neck shirts.
No matter your body shape, pick clothes that make you feel confident. Experiment with different styles and silhouettes to find what works best for you.
Choosing the Right Clothing for Your Body Shape
Key for finding the right clothes for your body shape? Knowing your type! There are various body types. Knowing which garments will flatter your shape? That can make all the difference.
Let's look at tips for flattering clothes for each shape.
Clothing for Hourglass Body Shape
Hourglass-bodied people have an even top and bottom, with a clear waistline. Here are some tips for dressing this shape.
Go for clothes that hug your curves, like wrap dresses and pencil skirts.
Avoid baggy or shapeless things that hide your waist.
Choose fabrics that move with your curves, such as silk and satin.
High-waisted bottoms and cinched waists will show off your hourglass shape.
Steer clear of garments with bulky details at the waist – they won't flatter.
Main thing to remember: Show your curves and waist, while keeping your top and bottom balanced.
Pro tip: Belts, scarves, and jewelry will highlight your waistline.
Clothing for Apple Body Shape
If you've got an apple-shaped bod, you'll want to pick clothing that flatters your midsection and draws attention to your legs and arms. Here are some tips:
Tops:
Look for V-necks, wrap tops and tops that flow away from your body.
Avoid anything too tight or clingy around the midsection.
Bottoms:
Go for pants and skirts that sit at or below your natural waistline and have a wide waistband.
A-line skirts and bootcut pants look great.
Avoid low-rises and anything with a lot of volume around the waist.
Dresses:
Opt for dresses that have a defined waist or an empire waist that flares out.
Wrap dresses and shift dresses are flattering too.
Avoid shapeless dresses that hang straight down from the shoulders.
Accessories:
Draw attention upwards with statement jewelry and scarves.
Wear shoes with a heel to elongate your legs.
Most importantly, wear clothing that makes you feel comfortable and confident in your own skin.
Pro tip: For help finding the most flattering styles for your body type, consider working with a professional stylist.
Clothing for Pear Body Shape
If you have a pear-shaped body, finding the right clothing can be tough. But these tips make it easier to find clothes that flatter your shape and give you confidence:
Tops:
Choose tops that emphasize your upper body and draw attention away from your hips and thighs. Empire tops, boat necks, and off-the-shoulder tops are great for balance.
Bottoms:
Pick bottoms that skim over your hips and thighs without clinging. Bootcut jeans, A-line skirts, and wide-leg pants are ideal for a streamlined look.
Dresses:
A-line and fit-and-flare dresses look amazing on pear-shaped bodies. They hug your waist and flare out over your hips. Avoid body-con dresses or anything that clings to your lower half.
Colors and Patterns:
Dark bottoms and bright tops create balance in your look. Vertical stripes and busy patterns will elongate your silhouette and draw the eye away from your hips.
Remember: Confidence is key! Wear what makes you feel good and don't be afraid to experiment with styles and trends.
Pro Tip: Show off your curves. The right clothes will enhance your beautiful figure and make you feel fabulous.
Clothing for Rectangle Body Shape
If you've got a rectangle body shape, you'll want to select clothes to give an illusion of curves and show off your waistline.
Here are some tips:
Tops: Go for tops with ruffles, draping, or neckline/hip details. Crop tops can also look great with a high-waisted skirt or pants.
Bottoms: Choose bottoms that make your waistline stand out, like high-waisted or wrap skirts. A-line skirts or flared pants will give some curves.
Dresses: Belted shirt dresses, wrap dresses, or fit-and-flare dresses can all work.
Pro tip: Don't be scared to try bold prints or patterns – they can help create the illusion of curves.
Choosing the Right Colors and Patterns
Choosing clothes? Colors and patterns matter! Certain hues and designs suit different body types best. The wrong ones? Not flattering. Here's what to pick for your shape: the best colors and patterns.
Colors that Flatter Your Skin Tone
Figuring out the proper colors that suit your skin tone is key. There are three categories of undertones: cool, warm, and neutral. Knowing your undertone aids in selecting hues that boost your beauty. Cool undertones look great in blue, green, pink, and purple. Warm undertones fit earthy tones such as brown, rust, and orange. Neutral undertones can don almost any color, but look especially nice in black, white, and gray.
Moreover, consider your complexion's overall tone – fair, medium, or dark. Darker complexions can rock bold and bright shades. Those with fair skin should stay away from pastels that make them look washed out.
Comprehending your skin tone and which colors flatter it helps you pick clothes, patterns, and accessories that match your body type and complexion. So, boost your confidence and look! Don't be afraid to try something new! Experiment with different colors!
Choosing Patterns that Complement Your Body Shape
To improve your style and confidence, it's important to understand your body shape. Then, choose patterns that complement rather than compete with it. Here are some tips to help:
– Hourglass shapes should go for diagonal & curved patterns that highlight curves.
– Apple shapes should draw attention to the neck & shoulders with bold stripes or V-necklines.
– Pear shapes should balance their proportions with bold prints on top & solid colors on bottom.
– Athletic shapes should go for angular & geometric patterns that enhance the silhouette & add dimension.
– Petite shapes should go for smaller, daintier patterns that won't overwhelm the frame.
Remember, wear what makes you feel confident & comfortable. Pro tip- Experiment with different patterns to find out what works best for you.
Dos and Don'ts of Mixing Patterns
Mixing and matching patterns can be a great way to make your outfits unique. Here are some tips for doing it right:
Do keep the colors in the same scheme. Stick to a complementary palette or one color only.
Don't mix more than three patterns. Too many will overpower the look.
Do mix patterns of different sizes. Balance small and large prints.
Don't use patterns that compete. Avoid patterns that are too similar.
Do include neutral pieces. Denim or black trousers can help balance bold patterns.
If you follow these dos and don'ts, you can create fashionable and flattering outfits for any shape!
Accessorizing to Flatter Your Body Shape
Accessories can assist you to look more flattering in your garments. The right accessories can help you draw attention to your great features, making you appear more attractive, and showing off your style. We will explore how to accessorize to compliment your body shape.
Choosing the Right Jewelry
Finding the correct jewelry can make your body shape stand out and improve your overall look. Here are some tips to help you pick the ideal jewelry that flatters your body shape and matches your outfit:
If you have an hourglass shape, try jewelry to emphasize your waist, like a long necklace or a choker.
If you have a pear-shaped figure, select earrings that draw the eye to your face and neck, not big necklaces that draw attention to your hips.
If you have an apple-shaped figure, wear long necklaces which draw attention to your upper body and pass on chunky bracelets which make your arms seem bigger.
If you have a rectangular-shaped figure, go for earrings that bring attention to your jawline and neck and skip long necklaces that add length to your torso.
Remember, the jewelry you choose should match your outfit and not overpower it. Keep it simple and elegant, and go for pieces that align with your personal style.
Pro Tip: Generally, try to not wear more than three pieces of jewelry at once to avoid looking too busy.
Wearing the Right Shoes
Choosing the right shoes can make a real difference in how good your outfit looks, depending on your body shape. Consider your height, type and dressing style.
For example: those with a pear-shaped body should go for high-heels or ankle boots to elongate their legs and create balance. Petite women should look for shoes with a pointed toe or heels for extra height.
When selecting shoes, think about your clothes' color, shape and style. If you're wearing wide-legged pants, opt for shoes with a pointed toe to keep proportions balanced.
In summary, wearing the right shoes for your body shape can make a big difference, making you look taller or giving an illusion of being slimmer. Experiment with different shoes to find the right fit for your body type!
Pro tip: Prioritize comfort when choosing shoes to avoid any aches or pains.
Selecting the Right Handbag
Choosing the right handbag is important for accessorizing. It affects how your outfit looks on you. Here's some advice on how to select the right bag, depending on your body shape:
Pear-shaped? Go for bags that are above or below your widest hip point. Avoid big bags that draw attention to your lower half.
Apple-shaped? Crossbody or shoulder bags balance out your midsection.
Hourglass? Bags just above your waistline show off your curves.
Rectangular? Go for slouchy or oversized bags for the illusion of curves.
Ultimately, pick a handbag that goes with your outfit and makes you feel confident.
Tailoring Your Clothes to Fit Your Body
Unique body shapes exist, so why not tailor clothes to fit? It might be difficult, but it is achievable. Follow these helpful tips to look and feel amazing in your clothes. Here are the most important rules for finding flattering clothes to fit any shape:
Benefits of Tailoring Your Clothes
Tailoring your clothes is advantageous in many ways. It boosts your look and comfort, plus saves money and the environment! Here are its perks:
Perfect fit! Tailoring your clothes to your body measurements makes them comfortable and flattering.
Upcycling/recycling – Tailoring clothes no longer fitting or in need of repair extends their life and reduces textile waste.
Savings – Investing in tailoring prevents the need for frequent replacements, thereby saving money.
Tailoring your clothes helps you feel confident and look smart, while caring for the planet and your wallet!
Pro Tip: Opt for quality fabrics and timeless styles when tailoring – they'll last for years.
What Can Be Tailored
Tailoring is a great way to make your clothes fit you perfectly and make you look amazing. Here are some things that can be tailored:
Length: Pants, dresses, skirts and sleeves can be hemmed to fit your height and body.
Width: Jackets, shirts and pants can be taken in or let out to adjust the fit.
Shoulders: Jackets and blazers can be tailored to fit your shoulder width and look great.
Waist: Pants and skirts can be taken in at the waistband for a secure, flattering fit.
Proportions: Arm, leg, and torso length can be adjusted for a natural and flattering fit.
Tailoring will help you accentuate your best features!
How to Find a Good Tailor
Getting clothes that suit your figure and enhance your shape is easy when you have a great tailor. Here's how to find one:
Ask around – see if friends, family or workmates have a good tailor and get their name.
Check out online reviews – look for tailors with lots of positive comments from customers.
Find out about their experience – ask them what kind of clothes they make and how long they've been doing it.
Look for certifications – go for tailors who have diplomas and qualifications.
When choosing clothes, keep in mind to show off your best bits and cover up the bits you don't like. Pro tip: build a strong relationship with your tailor by being respectful and giving clear instructions.
Frequently Asked Questions
Q: What is the first thing to consider when choosing flattering clothes?
A: The first thing to consider is your body shape; this will help you identify the styles that will flatter your figure.
Q: What type of clothing should apple-shaped people avoid?
A: Apple-shaped people should avoid clothing that accentuates the midsection, such as belts or clingy fabrics. Instead, opt for A-line dresses or tops that flow loosely over the midsection.
Q: What kind of pants suit a pear-shaped figure?
A: Bootcut or flared pants are most flattering for pear-shaped figures. Avoid skinny jeans or leggings that may emphasize your hips and thighs.
Q: Can petite women wear maxi dresses?
A: Yes, petite women can wear maxi dresses as long as they choose a dress with a high waistline and a smaller print pattern. This will help elongate their figure.
Q: What style of clothing suits an hourglass figure?
A: Hourglass figures should opt for bodycon dresses or fitted tops that accentuate their waistline. They should avoid shapeless or baggy clothing.
Q: How can I find the right bra size to enhance my figure?
A: Consult a professional fitter or use online resources to determine your correct bra size. Wearing the right bra size will not only enhance your figure but also make clothes fit better.