How to Add a Touch of Style to Any Outfit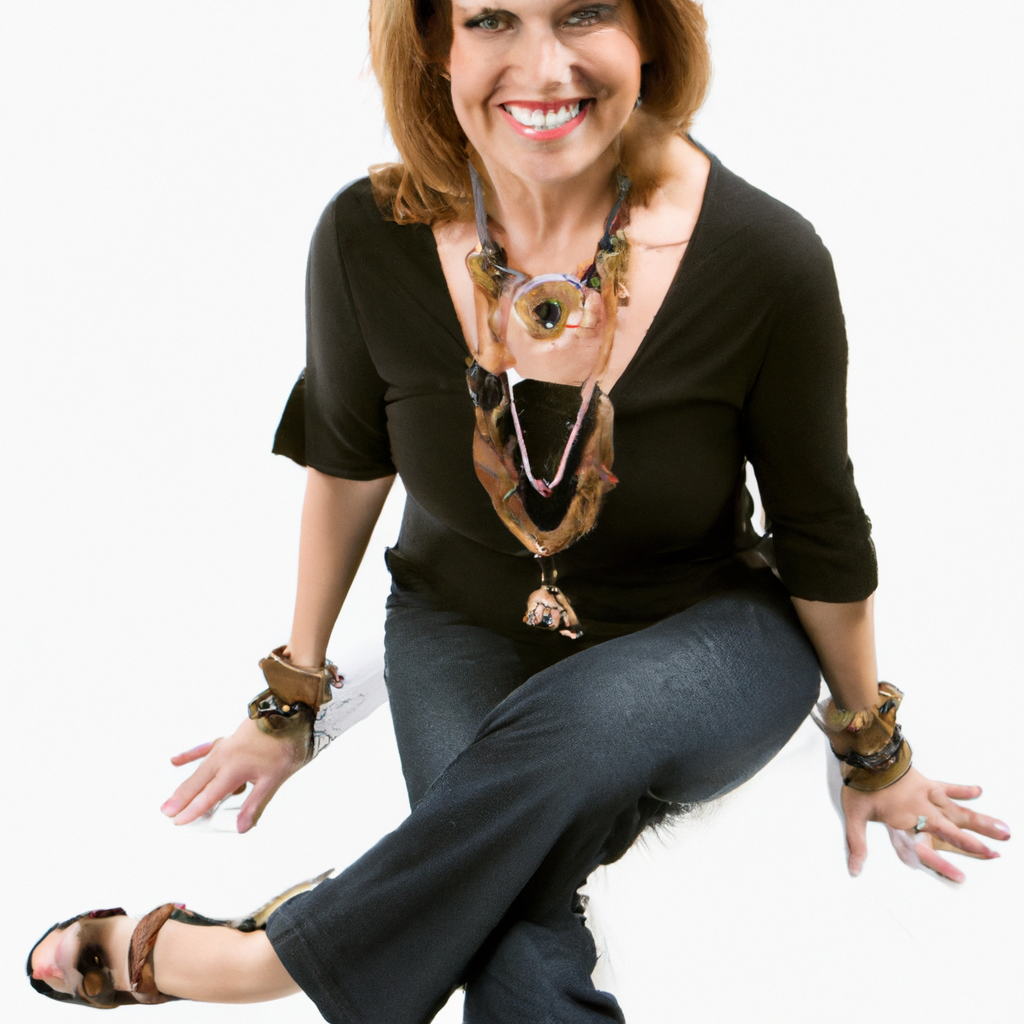 To add style to any look, follow these helpful tips:
Accessorize: Pick a statement piece of jewelry, a bright scarf, or a fashionable bag. Don't overdo it – accessories should enhance your outfit, not overpower it.
Layer up: Put together a basic piece and layer on top. For example, a sweater or vest on top of a shirt.
Mix & match: Combine different styles, patterns, and textures for a unique look.
Choose shoes carefully: Shoes can make or break an outfit – so pick wisely. Classic heels or boots are always a safe bet.
Pay attention to details: Neatly iron your clothes, tuck in your shirt, and choose the right fit. Every detail matters when it comes to looking stylish.
Pro tip: Don't be afraid to experiment and have fun with fashion. The most fashionable people take risks and make statements with their outfits.
Accessorizing with Jewelry
Spice up your look! Accessorize with jewelry for an extra unique touch. It can totally change your outfit. Let's check out different types of jewelry and how to wear them for specific events.
Choosing jewelry that complements the outfit
Accessorizing with jewelry can help your outfit make a statement. Here are some tips to do it right:
Think about the color and neckline of your garment. A high neckline pairs with chunky necklaces, while a low neckline goes well with long pendants.
Match the formality of your clothing with the jewelry. For formal occasions, choose subtle yet elegant pieces. For casual outfits, have fun with bold and colorful jewelry.
Balance your look by wearing fewer accessories. If you have large statement earrings, pair them with a simple necklace or none at all.
Remember, less is more! Don't overdo it with jewelry. Pick a few key pieces that fit your outfit.
By following these tips, you can easily add a touch of style to any outfit.
Mixing and matching metals and colors
Mix and match metals and colors to accessorize with jewelry! It adds style to any outfit. Here are some tips:
Begin with a neutral base – silver or gold.
Don't use too many metals. Two or three is enough.
Match colors with metals. Cool colors with silver or white gold. Warmer colors with gold or rose gold.
Add texture – matte, shiny, or hammered metal.
Experiment for a unique style!
Balancing statement pieces with simpler ones
When it comes to jewelry, the key is striking a balance. Make one bold statement or layer simpler pieces. Here's how:
Choose one main piece and accent it. If you're wearing a statement necklace, keep earrings small.
For a subtle look, choose studs, a delicate necklace, and a classic watch. Layer multiple necklaces for interest.
Think about the occasion and dress code. Formal events call for classic pieces, while casual ones can be more creative.
Don't be scared to mix metals and styles. As long as the overall look is balanced, you can add personality to your accessorizing.
Playing with Layers
Layers – a must for a stand-out outfit! It's a great way to give your look an extra edge. Show off different sides of your wardrobe by layering up. Here are some tips to help you ace the layering game:
Mix and match textures.
Try using different sleeve lengths.
Have fun with colours.
Layer up with accessories.
Put together layers that flatter your shape.
Layering clothes for warmth and style
Layering clothes is the way to go if you want to look stylish and stay warm during the chillier months! Here're some tips to ace it:
Start with a basic get-up, like a t-shirt and jeans.
Add a light layer for a bit of color and texture, like a cardigan or button-up shirt.
Layer with a heavier piece, like a blazer or sweater, for warmth and style.
Accessorize with scarves, hats, or gloves for extra warmth and a bit of oomph.
Layering allows you to explore textures, colors, and prints while staying cozy. Plus, you can quickly transition from day to night.
Pro tip: When adding layers, keep proportion and fit in mind so you don't look too bulky or overwhelmed.
Experimenting with textures and patterns
Experimenting with different textures and patterns is a great way to add some style and personality to your outfits! Layer clothing and accessories to give your look an upgrade, create interest and show off your unique fashion sense. Here are some tips to help you get started:
Mix it up with fabrics! Have fun with different textures like denim, leather, silk and knit to add depth to your outfit. For instance, a denim jacket with a silk blouse or a leather skirt can look really stylish.
Contrasting prints: Combining different prints can make a bold statement. Try combining a polka-dotted shirt with a tartan skirt for something that stands out.
Accessorize: Add some extras to pull your look together. Try a belt, scarf, necklace or hat to make it more complete.
Remember, experimenting with textures and patterns is all about having fun and expressing yourself. So don't be scared to mix and match to find an outfit that reflects your unique style!
Styling with jackets, blazers, and cardigans
Jackets, blazers, and cardigans can give your look a stylish touch. Here are a few tips for how to rock them:
Blazers – Combine a tailored blazer with jeans and a t-shirt for a chic and easy look. If you want to add some colour, choose a bright blazer.
Cardigans – Add a long, flowing cardigan over a dress or skirt to dress up a casual outfit. Or, try a cropped cardigan with high-waisted pants to show off your waist.
Jackets – Motorcycle jackets or denim jackets go great with floral dresses or skirts. And leather jackets with skinny jeans and ankle boots can give any outfit an instant makeover.
Pro tip: When layering, think about the length and fit of each piece for a flattering effect. Mix up fabrics, colours and textures for a look with more depth.
Adding a Pop of Color
Liven up any ensemble with a 'pop of color'! It's a quick and easy way to make your look stylish and eye-catching. Even a basic outfit can stand out with an added dose of vibrancy. From bold statement pieces to subtle hues, there are plenty of fun options. Let's explore the different ways to add a 'pop of color' to any outfit!
Choosing colors that complement skin tone and eye color
Choosing the right colors to flatter your skin tone and eye color is a great way to brighten up your wardrobe. Here are some tips to help you pick the perfect hue:
Skin tone: If your skin has warm undertones (yellow, peach or gold), choose warm colors such as yellow, orange and brown. Cool-toned skin (pink or red undertones) looks great in shades of blue, purple and green.
Eye color: For eyes that stand out, find clothing that brings out your eye color. Blue eyes? Try blues and greens. Green eyes? Earthy tones like brown and beige. Brown eyes? Rich jewel tones like emerald green and burgundy.
Pro tip: Don't be afraid to mix and match! Color theory can also provide guidance on creating stylish color combinations.
Starting with neutral base and adding in bold shades
Accessorizing? Start with neutrals and add bold shades for a touch of style. Pro tips? Here you go!
Neutral base? Black or white clothing or accessories.
Pop of color? Statement necklace, bright shoes, or bold scarf.
Coordinate? With the rest of your outfit for a cohesive look.
Makeup? Also a great way to add a pop of color.
Unsure? Start small, like a bright bracelet or earrings.
Experiment? Have fun with color.
Elevate? Your outfit and your mood.
Style? Personal. What matters most? Wearing what makes you feel confident and happy.
Using color to bring attention to specific areas of the outfit
Adding some color to your outfit is an easy way to bring focus to certain spots, and add a bit of style to your overall look. Here are some tips on using color to boost your ensemble:
Decide where you want to add the burst of color. This could be via accessories such as scarves, jewelry, shoes, or bags; or with a statement piece like a bright blazer, bright blouse, or bright pants.
Pick a color that goes with your skin tone and hair color. If you have warm undertones, try colors like coral, mustard, or olive; cool undertones look great in blues, purples, or pinks.
Begin with small pops of bright color to avoid overpowering your outfit. You can use a colorful belt or shoes to add to a neutral outfit, or put on a bold scarf over a single-color top.
Remember, adding color is all about having fun and showing off your own style!
Enhancing with Accessories
Accessories can be the ultimate way to upgrade any look. From a basic pair of earrings, to a bold necklace, to a stylish scarf or belt. A few simple accessories can turn an ordinary outfit into something special. Let's learn how to use accessories to add a touch of style to any ensemble.
Adding belts, hats, and scarves
Accessories can spice up any outfit. Belts, hats and scarves are all pieces that can turn an outfit from plain to stylish in moments.
Adding a belt can cinch in a top or dress, show off your shape and add colour or texture. Wear a thick belt with high-waisted pants for a fashionable look.
A hat can make a statement and keep you safe from the sun. Choose a fedora or wide-brimmed hat for a boho vibe with maxi dresses or shorts.
Scarves are so versatile – wear them as headbands, belts, shawls, around your neck or wrist, or as a top. Have fun with colours, designs and textures to make your outfit stand out.
Choosing accessories that complement the overall outfit style
Accessories are a great way to jazz up any outfit and add your own touch. Selecting accessories that match the whole outfit style is vital for creating a harmonious and pulled-together look. Here are a few tips:
Match metals: If your outfit has gold accents, pick gold accessories too.
Choose a statement piece: A striking accessory, such as a chunky necklace or a statement bag, can give life to any outfit.
Mix textures: Create interest and depth with accessories by mixing different textures. Eg: combine a silk scarf with a leather jacket.
Think of the occasion: Pick accessories suitable for the occasion. For instance, a small clutch for a fancy event or a crossbody bag for a relaxed daytime outing.
Stay balanced: Balance the size and scale of your accessories with your outfit. If you're wearing a full dress, pair it with dainty jewelry rather than large ones.
Pro tip: Less is usually more when it comes to accessories. Choose a few pieces that go with your outfit instead of piling on lots.
Using accessories to emphasize personal style
Accessories can make or break an outfit. Knowing how to use them to emphasize your personal style is key! Here are some tips:
Pick accessories that complement, not match, your outfit.
Mix textures and materials – like leather, metal, and fabric – for interest.
Add a pop of color or pattern to a neutral outfit, or tone down a bold one.
Layer accessories to make a personalized look.
Don't forget practical accessories – scarves, hats, and gloves – which can also add style.
By following these tips, you can enhance your outfit and show off your personal style with accessories.
Playing with Prints
Prints are a fun way to add some flair to your wardrobe. Bright and bold, or subtle and neutral – the choice is yours! From florals to polka dots, there's a print for everyone. Let's explore the best ways to style prints.
Mixing prints for added interest and style
Print-mixing is an easy way to make any outfit more interesting. Here's how to do it:
Start with stripes. They work with any other print.
Choose prints in the same colour. It'll look coordinated.
Vary the size. It'll give more depth and dimension.
Keep it simple. Stick to two or three at most.
Have fun! Use different prints and colours to express yourself.
Choosing prints that complement skin tone and hair color
Prints can make or break an outfit. Here are some tips that'll help you choose the right ones.
Fair Skin Tone: Bright colors like red, orange, blue and green look great. Florals, polka dots, and stripes in contrasting hues can give your outfit a stylish touch.
Medium Skin Tone: Earthy tones like olive green, rusty red, and mustard yellow should be chosen. Geometric shapes, tribal prints, and paisley will give your outfit an edgy and playful look.
Dark Skin Tone: For dark skin tones, bright jewel tones like amethyst purple, emerald green, and sapphire blue are ideal. Animal prints, abstract prints, and graphic prints can add drama to the outfit.
When it comes to hair color, pick prints that contrast with it. Animal prints go well with blonde hair while paisley prints look great on brown hair.
Pro Tip: To create a cohesive look, mix and match prints that have similar color palettes.
Balancing bold prints with simpler pieces
Wearing bold prints can make a statement. But it can be tricky. To balance them, pair with simpler items. Here are some tips:
Pick one print for the focus. Then pair with a solid-color item.
Mix prints in the same color family. E.g. floral top and striped pants.
Accessorize with neutral pieces. Like a belt or shoes.
Limit bold prints to two only.
In conclusion: combine bold with neutral and solid colors. Pro tip: Try big and small prints together!
Frequently Asked Questions
1. How can I add style to a basic outfit?
A: One easy way is to add a statement accessory, like a bold necklace or patterned scarf. You can also play with layers, like adding a denim jacket or cardigan.
2. What types of shoes can elevate an outfit?
A: Heeled booties, statement sneakers, and pointed-toe flats are all great options for adding style to an outfit. You can also opt for shoes with unique details like studs or embroidery.
3. How can I mix patterns without looking too busy?
A: Stick to patterns in similar color families, and mix larger prints with smaller ones. For example, pair a bold floral top with a smaller polka dot skirt. You can also break up patterns with solid-colored accessories or clothing items.
4. Is there a way to add style to a simple t-shirt and jeans?
A: Yes! Add a statement belt to cinch in your waist or tuck in the front of your shirt to show off layered necklaces. You can also roll up your sleeves and accessorize with a funky watch or bracelet.
5. How can I add style to a monochromatic outfit?
A: Add texture by wearing different fabrics, like a leather jacket over a knit top. You can also play with different shades of the same color, or add a pop of color with a statement accessory.
6. What are some easy hairstyle tips to add style to an outfit?
A: A sleek ponytail or messy bun can add a touch of sophistication. You can also accessorize with a fun hair clip or headband, or try out a statement hair color like highlights or ombre.