Tips on How to Stay Fashionable Throughout the Year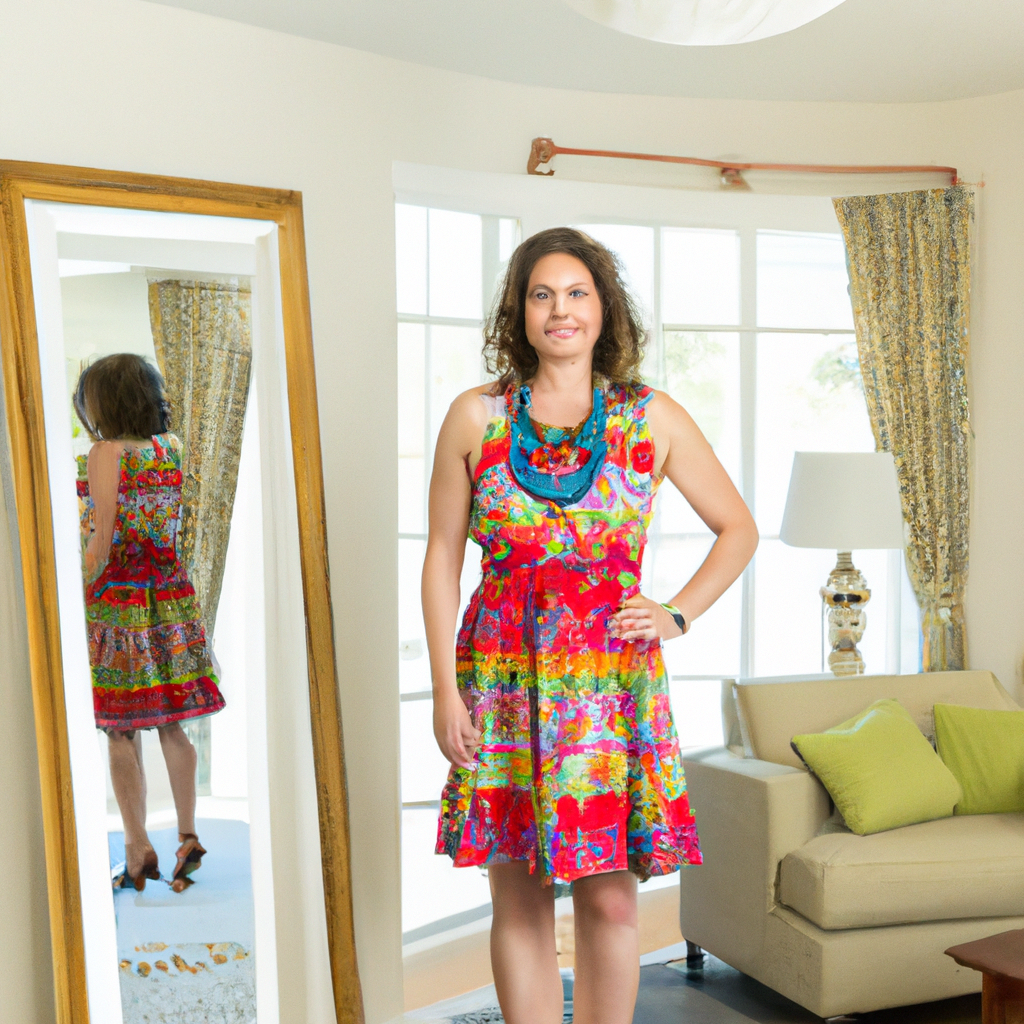 Keeping fashionable all year round can be hard, but it's not impossible! Here's how:
Invest in classics: Items like a LBD, jeans, and a white shirt never go out of style. They can be styled with trendy pieces to make a statement – this saves money on purchasing trendy outfits that only last a season.
Shop off-season: Buy winter clothes during summer, and summer outfits during winter. This helps you get the best deals when clothes are on sale and out of season.
Mix & match: Try different outfit combos to create a unique style. Plus, it helps avoid fashion boredom.
Tailor-made: Get clothes tailored to your body type. It adds a customized, professional touch to your outfit.
Accessorize: Shoes, bags, and jewelry can elevate any outfit.
These tips can help you stay stylish without spending tons of money or buying new items all the time.
Seasonal Fashion Tips
Seasons change, and so does fashion. Bloggers and stylists say to revamp your wardrobe with every season. From winter to summer, it's important to know how to switch up your look. Here's how to stay stylish all year round.
Spring Fashion: light layers, trench coats, pastel colors, floral prints
Spring fashion is all about light layers, trench coats, pastel hues, and floral prints. Here are some tips to stay fashionable all year round!
Layer up: Light layers make any outfit comfy and stylish. Try a denim jacket over a sundress for a chic look.
Trench coats: Trench coats are timeless, flattering and structured. Neutral shades like beige, khaki, or camel work best.
Pastel colors: Pastel pink, lavender, mint and sky blue are perfect for a delicate and feminine look. Wear them as monochrome or mix and match with bold hues.
Floral prints: Floral prints are a classic spring trend. They add whimsy and romance to any outfit. Wear them on dresses, skirts, blouses, or pants.
Pro Tip: Mix seasonal staples with your wardrobe to save money. Experiment with styles, colors, and patterns until you find the perfect look!
Summer Fashion: breathable fabrics, shorts, dresses, sunglasses, hats
Summer fashion is about keeping cool and being stylish. Here's how:
Breathable fabrics like cotton, linen, or rayon to beat the heat.
Shorts like denim or printed to give a casual vibe.
Dresses like sundresses or maxi in lightweight fabrics and colors/prints.
Sunglasses to protect eyes from the sun's rays, with trendy frames and lenses.
Hats for sun protection and style- think floppy, wide-brimmed, baseball caps.
Pro tip- Combine these to create a unique look. Wear what makes you feel confident and comfy.
Fall Fashion: layering pieces, denim jackets, boots, earthy tones, scarves
Autumn is an ideal moment to flaunt your layering talents. Go for earthy shades and spruce up with scarves. Here are some must-know fall fashion tips to keep you looking stylish whatever the climate:
Layering pieces: Layering is key for autumn fashion. Get versatile items like oversized cardigans, trench coats and denim or leather jackets. They can give dimension, texture and warmth to any get-up.
Denim jackets: A denim jacket is a timeless piece to make any outfit even better. You can wear it with dresses, trousers, skirts or even joggers for a laid-back look.
Boots: Boots are essential for autumn. They bring a touch of coolness to any ensemble and come in different styles, such as ankle boots, over-the-knee boots and combat boots.
Earthy tones: Earthy shades like olive, rust, brown and mustard are trendy this season. They evoke the feeling of the season and can be paired with other neutral or bright hues.
Scarves: Scarves can add a blast of color, texture or heat to any outfit. Get various lengths and designs, from chunky knits to silk scarves, to upgrade your autumn appearance.
Pro tip: Don't be afraid to mix prints, textures and materials. Experimenting with your style is the best way to uncover what suits you.
Winter Fashion: wool coats, fur, cozy sweaters, boots, statement accessories
Winter fashion is all about being warm and cosy, as well as stylish. The trick to creating the perfect winter outfit is to choose comfy yet fashionable items that keep you snug and dry during the chilly months.
Invest in some winter fashion staples:
Wool coats – timeless and warm, they add sophistication.
Fur – a fur coat, scarf or boots bring texture and luxury.
Cozy sweaters – opt for chunky knits or oversized cardigans.
Boots – combat, snow or ankle – keep your feet toasty.
Statement accessories – hats, scarves and gloves add personality and flair. Try bold patterns or colors.
Pro tip – layering is essential for staying warm, and for a more versatile style. So don't be afraid to mix and match different pieces.
Accessories
Accessorizing is a cost-effective way to stay in style. From hats to jewelry, scarves to sunglasses – there's no limit! Let's explore the diverse assortment of accessories you can add to your wardrobe. Change them up depending on the season – it's easy!
Jewelry: selecting statement pieces, layering, and coordinating with outfits
Jewelry is a key to upgrading any outfit! Here are some tips to help you choose statement pieces, layer them and coordinate them with your outfits all year.
Pick Pieces: Get statement pieces that fit your style and the event. Big earrings, cuffs or chokers add drama, but use them sparingly.
Layer: Choose jewelry of different lengths and wear them together. Layer necklaces, bracelets or cuffs for a unique look.
Match Outfits: Match jewelry to the occasion and style. For a boho style, pick pieces with feathers or intricate details. Blingy pieces are better for formal outfits. Also, match colors to complete the look.
Pro Tip: Clean jewelry regularly and replace worn-out pieces to stay fashionable.
Bags: finding the right size and style for your needs, matching with outfits
Bags come in various sizes and styles, making them ideal for different situations and to suit different outfits. It's vital to select the perfect size and style of bag to meet your needs and function while being fashionable.
Cross-body bag: Perfect for errands, commuting or city adventures and holds everything you need at arm's reach.
Backpacks: All shapes and sizes, great for casual or formal settings. Accessorize to take your look to the next level.
Tote Bags: Versatile; use for groceries, everyday use or formal occasions. Accessorize with charm or pair with a scarf for a chic look.
Statement Bags: Go-to when trying to make a statement. Many shapes, sizes, and colors; perfect to stand out and go great with simple or monochromatic outfits.
Clutches: Ideal for formal or semi-formal occasions. Accessorize eveningwear and add a touch of elegance and sophistication.
Remember: when picking the right bag size and style, make sure it aligns with your outfit and personal style. Pro tip: Always go for classic and versatile bags – they never go out of style!
Hats: selecting the perfect hat for different occasions and seasons
Hats can take any outfit to the next level and also keep you safe from the elements. Here's how to choose the right hat for any occasion or season:
Formal events: Pick a subtle hat that goes with what you're wearing, like a fedora or cloche.
Outdoor activities: Go with a brimmed hat, like a baseball cap, bucket hat or wide-brimmed sun hat. That'll protect your face and eyes from the sun.
Cold weather: Grab a hat that covers your ears and head, like a beanie, beret or fur-trimmed hat.
Rainy weather: Get a waterproof hat, such as a plastic rain hat or waxed cotton hat, so your head and hair stay dry.
When picking out a hat, consider the material, colour and fit. Pro-tip: Try on different hats to find the perfect style for you.
Clothing Essentials
Fashionistas need basics, like tanks, tees, and jeans, to stay stylish all year. But what else should you own? Here's a list of must-have fashion pieces for all seasons. Get ready to be trendy and gorgeous!
Finding the perfect pair of jeans
Finding the perfect pair of jeans is a challenge, but with a few tips, it can be easier.
Know your body shape and get jeans to flatter it. For example, mom jeans are good for hourglass figures and skinny jeans for athletic frames.
Decide between a loose or tight fit.
Pick a wash – dark for dressier occasions and light for casual.
Choose high-quality denim that will last.
Measure waist, hips, inseam and leg opening to get the right fit.
Try on lots of sizes and styles – and don't be shy to ask help from sales associates.
With a bit of effort, you'll find the perfect jeans and look stylish all year!
The versatility of the Little Black Dress
The Little Black Dress is an essential item that can be styled multiple times and worn throughout the year. Here's how to style it:
For a fancy event, add statement jewelry and heels.
For a casual look, team it up with boots and a denim jacket.
Layer it with a blazer or cardigan and tights for the colder months.
And, during summer, pair it with sandals and a straw hat.
To add interest and depth, experiment with different textures like velvet or lace.
Pro Tip: Invest in a quality LBD that fits you well. Accessorize it to create different looks. This will save money in the long run and give you multiple outfit options with just one dress.
Building a capsule wardrobe: selecting versatile pieces that can be dressed up or down
Creating a capsule wardrobe's all about buying quality pieces that can be dressed up or down. Here's how to pick the most versatile items:
Pick neutral colors like black, white, beige and navy blue.
Get well-fitted, timeless pieces such as a blazer, jeans, trench coat and LBD.
Choose versatile footwear – comfortable sneakers, loafers, ankle boots and pumps.
Add interest with accessories like statement jewelry, scarves, hats and belts.
By following these tips, you'll be fashion-forward, save time & money, and have less clutter in your closet.
Styling Tips
Styling can be difficult. Think of trends, season, and your own style. Put together an outfit that fits, suits your body type, and shows your personal style. To make it easier, try these tips for staying fashionable year-round:
Consider current trends.
Pick clothes that fit you well.
Think about how clothes reflect your style.
And don't forget to be comfortable!
Mix and match patterns and prints
Mixing and matching patterns and prints is a great way to express yourself and add some pizazz to your style. But achieving the right balance can be tricky. Here are some tips to keep in mind:
Start small – if you're new to this, begin with more subtle prints.
Choose complimentary colors – this will create a unified look.
Use a neutral base – like denim, black, or white. This will anchor the outfit and stop it from looking too chaotic.
Vary the scales – mix prints of different sizes for more visual interest.
Have fun – fashion is all about expressing yourself, so don't be scared to experiment.
Pro tip: When mixing prints, stick to a maximum of three per outfit for a cohesive and balanced look.
Dressing for your body type: tips and tricks for different body shapes
Dressing for your body type can be tough. But, once you know your shape, finding the right clothes to show off your best features is easy! Here are some tips for different body shapes:
Hourglass: Go for clothing that shows off your curves – think bodycon dresses, fit and flare dresses and high-waisted pants. Avoid baggy or shapeless clothes which hide your waist.
Apple: Wear V-necks, button-downs and off-the-shoulder tops to accentuate your upper body. Avoid form-fitting clothing that draws attention to your midsection.
Pear: Choose clothes that make your top half stand out – boatneck tops, halter tops, strapless dresses. A-line skirts and dresses will flow away from your hips and thighs.
Rectangle: Create curves with wrap dresses, belts and peplum tops. Steer clear of form-fitting clothes that showcase your straight figure.
Pro Tip: Always wear clothes that make you feel good and express your personal style. Dress to show off your best features!
Accessorizing an outfit to take it from day to night
Accessorizing an outfit is awesome for transforming it from day to night, and stepping up your style. Here are some tips:
Jewelry: Trade subtle necklace and earrings for dramatic pieces. Dazzle with chandelier earrings, or a chunky necklace.
Shoes: Trade comfy sneakers or flats for heels or ankle boots. Not only do they add height, but they make any outfit polished and glamorous.
Bags: Replace bulky work tote with a chic clutch or cross-body bag. Perfect for a night out, and less cumbersome.
Makeup: For night looks, use a bold lip, winged eyeliner, or smokey eye. Don't be afraid to experiment with colors and application.
Remember, accessorizing is about experimentation and letting your personality shine.
Pro tip: Invest in accessories that work for day and night, like a statement necklace, or classic black heels.
Budget-friendly Fashion
Fashion is hard to keep up with on a budget. But, there are ways to stay trendy without breaking the bank. Here are some tips for getting fashionable on a budget:
Shop sales, thrift stores and check out online deals.
Buy basics that can be mixed and matched.
Invest in timeless pieces that will last.
Look for apparel made of quality materials.
Accessorize your look with scarves, jewelry and bags.
With these tips, you can look fashionable and stay within your budget!
Thrifting: finding hidden gems at second-hand stores and consignment shops
Thrifting is a great way to stay on trend without spending too much. Second-hand stores and consignment shops are filled with amazing pieces. Here's how you can find fashionable clothes on a budget:
Know your style. It'll make finding the right pieces easier.
Look for quality. Avoid items with stains, tears, or any other signs of wear and tear.
Check the fit. Sizes can vary, so try on clothes before you buy them.
Look for sales and promotions. Thrift stores and consignment shops often have discounts.
If you follow these tips, you can stay fashionable without breaking the bank. Plus, you can bring in clothes you don't wear anymore to get store credit or a tax credit!
Sale Shopping: how to score the best deals at end-of-season sales
End-of-season sales are the optimal chance to get some trendy and fashionable pieces without draining your wallet. Here are some advices to get the top bargains while sale shopping:
Prepare in advance – Prepare a list of the items you need and set a limit for yourself.
Shop ahead – The best deals generally go instantly so try to shop as soon as the sale starts.
Be picky – Stick to pieces that are diverse and can be worn in multiple ways throughout the year.
Examine the quality – Just because an item is on sale doesn't mean it's a good deal. Check for any damages or flaws before buying.
Pick up basics – End-of-season sales are the ideal time to stock up on basic t-shirts, jeans, and other staple pieces.
Shop online – If you don't love the hustle and bustle of in-store shopping or can't find what you require, try looking at the online sales.
Use these tips to stay fashionable all year without spending too much money.
Pro tip: Keep an eye out for Cyber Monday sales which come after the season has ended and are great for finding off-season clothes at a reduced price.
Investment Pieces: selecting pieces that are worth investing in for quality and longevity
Investment pieces are worth the money spent; they are versatile, timeless, and high-quality. These items have outstanding quality, fit, design, and durability.
When selecting investment pieces for your wardrobe, pick things that will last and suit different outfits. Examples include a timeless coat, leather boots, leather handbag, or high-quality jeans.
Investing in these pieces saves money by avoiding buying cheap clothes often. They are a way of staying fashionable and adapting to trends while keeping your personal style.
Pro tip: Don't be fooled by designer labels; focus on fabric, design, and construction of the item.
Frequently Asked Questions
Q: What are some tips to stay fashionable throughout the year?
A: Some tips to stay fashionable throughout the year include keeping up with current fashion trends, investing in classic pieces that never go out of style, accessorizing with statement pieces, and experimenting with different textures and patterns.
Q: How can I update my wardrobe without breaking the bank?
A: Updating your wardrobe without breaking the bank can be done by shopping during sales, browsing thrift stores, and swapping clothes with friends. It's also important to invest in versatile pieces that can be styled in multiple ways.
Q: Can I still wear last season's trends?
A: Yes! Many fashion trends are cyclical and come back into style. Don't be afraid to mix and match current and past fashion trends to create unique and stylish looks.
Q: What should I consider when choosing an outfit for an important occasion?
A: When choosing an outfit for an important occasion, consider the dress code and location of the event, as well as your own personal style. It's also important to choose clothing that is comfortable and makes you feel confident.
Q: How can I make my outfits more cohesive?
A: Making outfits more cohesive can be achieved by sticking to a particular color palette, accessorizing with complementary pieces, and incorporating similar patterns or textures. It's also helpful to plan outfits in advance and try them on beforehand to ensure everything works well together.
Q: Are there any fashion rules that I should always follow?
A: The most important fashion rule is to wear what makes you feel confident and comfortable. Other than that, fashion is subjective and constantly evolving. Don't be afraid to take risks and experiment with your personal style.